#Discription___
Elo's 6553L Interactive Display
Elo's 65-inch, 4K touchscreen display adds interactivity to any environment. Perfect for everything from endless aisle and brand experiences to collaborative meetings, conferencing and whiteboarding, the 6553L offers a sleek, slim design built to withstand the rigors of continuous commercial use. Easily turn the display into a powerful, 65-inch, all-in-one, life-size tablet by adding an Elo computer module. Available with either PCAP (with anti-glare or clear glass with anti-friction) or infrared (with anti-glare) touch technologies, the professional-grade, large-format display integrates easily into any environment.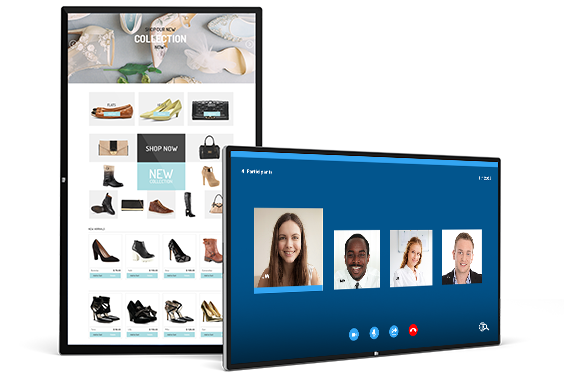 Interactive Signage or Collaboration: You Choose
Whether you are looking for an interactive display for a department store, restaurant or corporate
environment, Elo's 6553L offers the flexibility for a variety of applications. Explore how the
6553L can support both collaboration and interactive signage installations.
Collaboration for all Environments
Not only do high-traffic environments demand interaction, but conference and huddle rooms do as well. Interactive displays expand
collaboration capabilities between the presenter and his or her audience, helping deliver concepts beyond what a whiteboard
and dry erase marker can do.
Whiteboarding Ready
The user-friendly annotation and whiteboarding software provides corporate environments with a full set of features— from multi-user writing and drawing to handwriting recognition, graphical input and full multi-media integration and capture, the 5553L has the durability your environment demands. Choose between a stylus or your finger and start collaborating.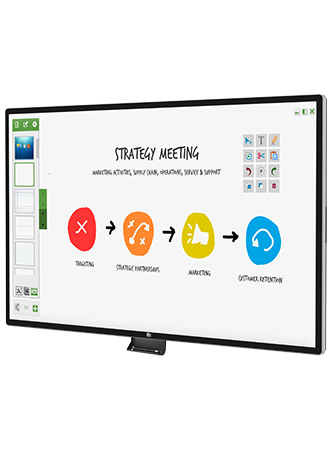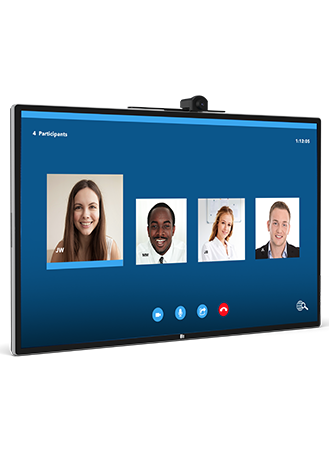 Video Conferencing
Designed for conference and huddle rooms, the Conference Camera delivers full HD video with wide viewing angles, an adjustable slider and 30° tilt that supports both vertical and horizontal adjustment. Choose whether you want to mount it on the top or on the side of your interactive display and simply attach, orient the camera and you're ready to start your meeting.

The Conference Camera is compatible with all major web conferencing applications, including Microsoft Teams, Zoom, Cisco Webex, GoToMeeting and BlueJeans.
Wireless Conferencing
with DisplayNote Montage
DisplayNote Montage enables wireless content sharing from any device onto your Elo touchscreen with no messy cables or time-consuming connection struggles. This wireless, bring-your-own device (BYOD) software helps connect teams and information in real time to empower faster, more reliable decision making and collaboration.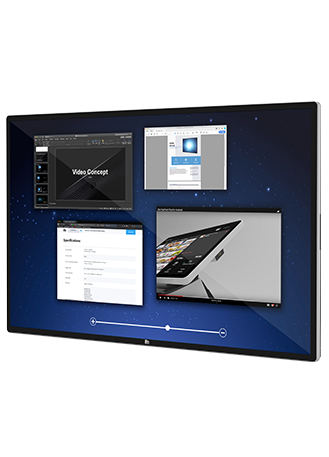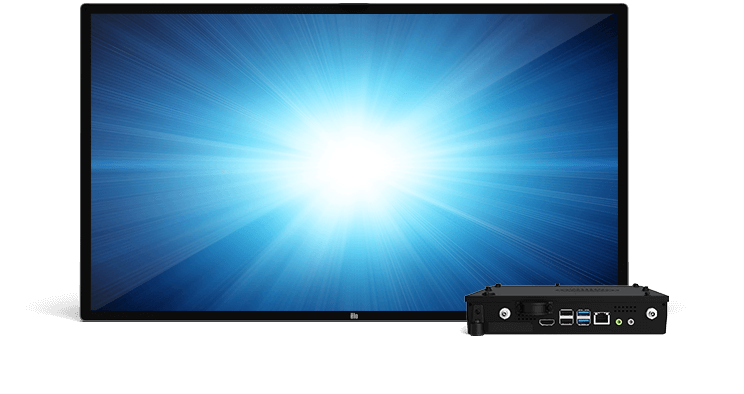 Add Windows Computing
Power with Ease
The commercial-grade computer module transforms Elo's touchscreen into a powerful, all-in-one, touch computer platform with compatibility with most content-management servers. Running Intel® Core™ 7th-Generation CPUs and enhanced graphics engine, the ECMG4s make field installation and maintenance easy with no external cables required.
#Key_Features__
Part Number(s)
Infrared (with anti-glare) - E215638
TouchPro PCAP (with anti-glare) - E215435
TouchPro PCAP (clear with anti-friction) - E914767
Enclosure Color
Black
Touch Technology & Capacity
PCAP (TouchPro® Projected Capacitive) - 40 Touch
Infrared - 20 Touch
Diagonal Size
64.5'' diagonal, Active matrix TFT LCD (LED)
Active Area (mm)
56.2" x 31.6" / 1428.48 mm x 803.52 mm
Aspect Ratio
16:9
Resolution
3840 x 2160 @ 60hz
Other Supported Resolutions
640x480 60Hz
720x480 60Hz
720x576 50Hz
800x600 56/60Hz
1024x768 60Hz
1280x720 50, 60Hz
1280x960 60Hz
1280x1024 60Hz
1366x768 60Hz, 60Hz RB
1440x900 60Hz, 60Hz RB
1680x1050 60Hz, 60Hz RB
1920x1080 50, 60Hz
3840x2160 60Hz – Native resolution
Viewing Angle
Horizontal: ±89° or 178° total / Vertical: ±89° or 178° total
Number of Colors
10-bit (1.07 billion)
Brightness (typical)
LCD Panel: 500 nits
IR: 450
TouchPro PCAP: 430 nits
Response Time-total (typical)
8 msec
Contrast Ratio
1100:1
On Screen Display
Let's Get Started: Language Selection, Time Setting, Time Zone

Video Source Select: HDMI-1, HDMI-2, HDMI-Side, DisplayPort, Internal-PC, Conference

Video Settings: Video Port Discovery, Brightness, Contrast, Black Level, Sharpness and Aspect Ratio can be selected

Color Settings: Color Temperature, Color Sensor, User Preset (for color), Picture Modes and HDMI Full Range are available in this menu

Audio Settings: Audio Output, Mute, Volume selection are available here

Power: Power Loss Behavior, Power Lock, Energy Star Mode, Power Savings Light options are available here

Time: Time Set, On/Off Schedule

OSD Settings: Recall Defaults, OSD Timer, OSD Language, OSD Lock and OSD Portrait Rotation

Information: Monitor, Temperature and Help & Support are available here

Conference: Screen Share Enable, Conference Hub Power Behavior

See user manual for full details.
I/O Ports
Back:
HDMI x2
USB 3.0 Type B
RJ45 OSD Remote
DISPLAYPORT 1.4
3.5mm TRS jack for Serial RS232
3.5mm Audio Headphones Line-out

Side:
HDMI x1
USB 3.0 Type A
Power Button
Video Source Selection
On Screen Display Button
Video
3x HDCP-capable HDMI on Type A connector
DisplayPort 1.4 connector

Input Video Horizontal Sync frequency range: 121.8 - 140 KHz
Input Video Vertical Sync (frame rate) frequency range: 47 - 63 Hz
Headphone Output Connector
3.5 mm TRS jack
Speakers
2 x 10 W stereo speakers
Power
Input power connector: IEC 60320-C13
Input power signal specifications: 100-240VAC 50/60Hz
Maximum Operating Time
24 hours/day
Power Consumption (Typical)
IR:
ON (monitor + AC/DC adapter): 152W
SLEEP (monitor + AC/DC adapter): 2W
OFF (monitor + AC/DC adapter): 0.7W

TouchPro:
ON (monitor + AC/DC adapter): 157W
SLEEP (monitor + AC/DC adapter): 2W
OFF (monitor + AC/DC adapter): 0.7W
Dimensions
TouchPro: 58.69" x 34.08" x 3.17" / 1490.6 mm x 865.5 mm x 80.4 mm
IR: 58.69" x 34.07" x 3.55" / 1490.6 mm x 865.5 mm x 90.2 mm
Shipping Box Dimensions
68.9" x 45.28" x 11.02" / 1750 mm x 1150 mm x 280 mm
Weight (Unpackaged)
TouchPro:
With ECM: 115.54 lbs / 52.41 kg
Without ECM: 111.14 lbs / 50.41 kg

IR:
With ECM: 118.54 lbs / 53.77 kg
Without ECM: 114.13 lbs / 51.77 kg
Weight (Packaged)
TouchPro:
Without ECM: 131.04 lbs / 59.44 kg

IR:
Without ECM: 136.24 lbs / 61.8 kg
Operating Temperature
Portrait/Landscape/Tilt (≤15°) Mode: 0°C to 40°C / 32°F to 104°F
Tabletop Mode: 0° C to 35° C / 32° F to 95° F
Storage Temperature
Portrait/Landscape/Tilt (≤15°) Mode: -20°C to 60°C / -4°F to 140°F
Tabletop Mode: -20° C to 60° C / -4° F to 140° F
Humidity
Operating: 20% to 80%
Storage: 10% to 95% (38.7° C max wet bulb temperature)
Mounting Options
VESA MOUNT PER MIS-F, 400 x 400mm, M6
VESA MOUNT PER MIS-F, 600 x 600mm, M8

See dimensional drawings for details
MTBF
50,000 hours demonstrated